World Bee Day
World Bee Day is celebrated on 20th May every year and recognised by the United Nations as an important day in raising awareness about bees, the threat they are under and the essential role they play throughout the world.
Inspiring children to love bees and nature is beneficial to them, to you and to the future. It's a way to slow down, appreciate the little things, the miracle of nature all around us and it helps to protect the environment for future generations.
A connection with nature has been well documented as positively effecting your mental health. Engaging children with nature early on can support their wellbeing as they grow up.
There are some lovely books and toys available that feature bees and flowers but there are also easy play at home ideas you can try.
This beautiful wooden hive set is available from Learn to Play and the proceeds support children across Botswana to access early childhood education. Win win!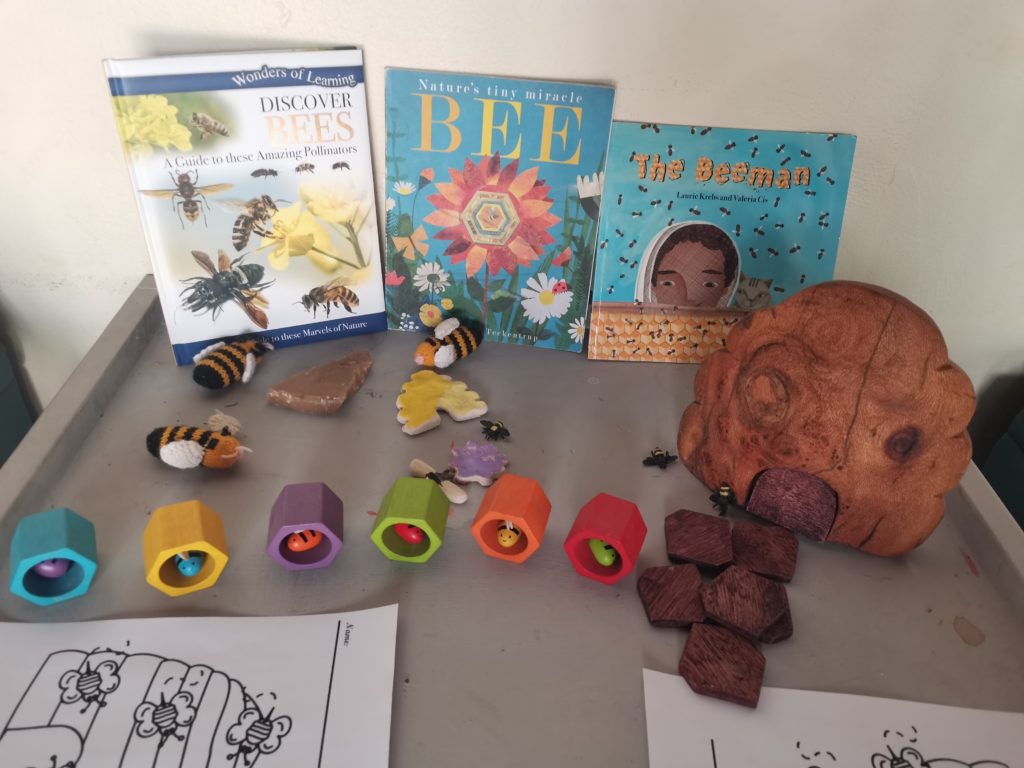 Bee Creative
Art is a way for children to express themselves. We know bees are traditionally black and yellow but that doesn't mean you have to limit the colour palate you offer your children. Draw our bees and flowers for them to colour or you can find lots of free printable pictures online. Try Twinkl for creative bee resources for a variety of ages.
We love to experiment with playdough and have found we can add turmeric spice to get a warm, yellow colour and add a teaspoon of activated charcoal to make a rich, black dough. Allow children to explore the texture, manipulate the dough and (if you can handle it!) mix the colours to see what happens.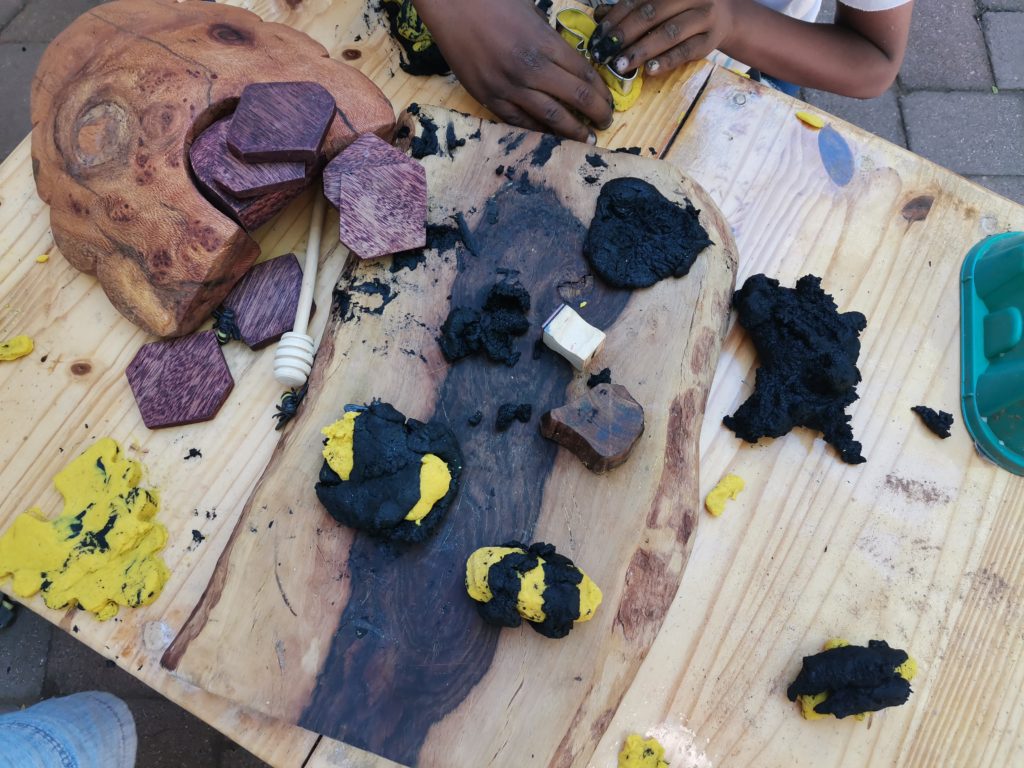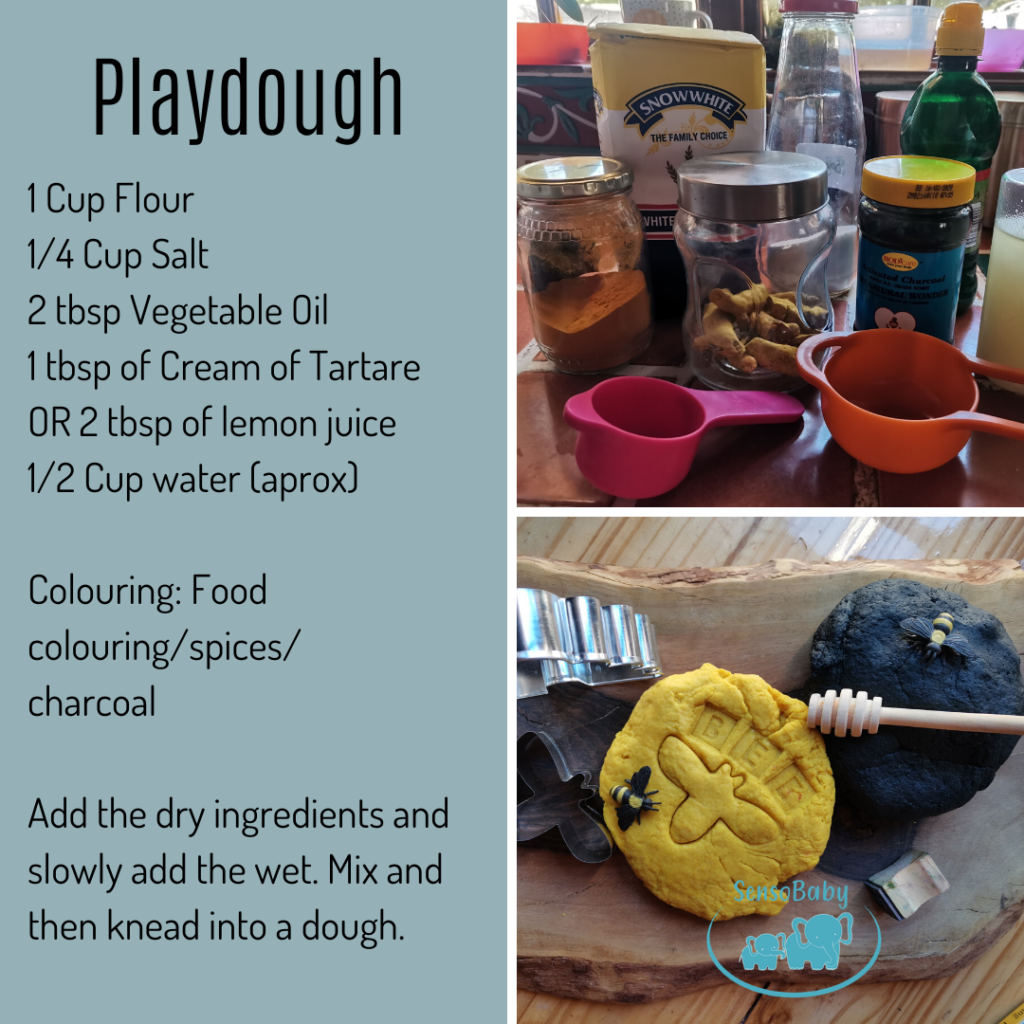 Bee Imaginative
It always feels good to dance and move your body and it can be a great way to release tension if you and your child have had a long or stressful day. Introduce them to the classical piece, The Flight of the Bumblebee, composed in 1900 by Rimsky-Korsakov. The fun, fast moving music evokes the flight of a bee and is sure to spark a child's imagination. Try moving your body in different ways, high, low, up and down or take your baby on a flight through the house!
Link: https://www.youtube.com/watch?v=Nrs5oQJZEK8
Set up 'pollen collecting' activity. Children can fly bees (use pom poms, toys or stones) between flowers (paper flowers, egg cartons, small containers). This activity works on their fine motor skills and you can add tweezers or scoops to support this.
Go on a nature walk outside. See if you can spot any bees or small insects and point out the flowers that they may visit. Pretend to be a bee and enjoy the freedom, movement and silliness.
Bee Baking
Baking has been a lock down favourite in our house. Even with toddlers and young children, baking can be a wonderfully sensory and connecting experience. Pouring, sieving and measuring ingredients; making a mess; enjoying the smells and textures and of course, getting to eat the end results.
This easy Honey Biscuit recipe is a great activity to appreciate the nectar our bees work hard to produce.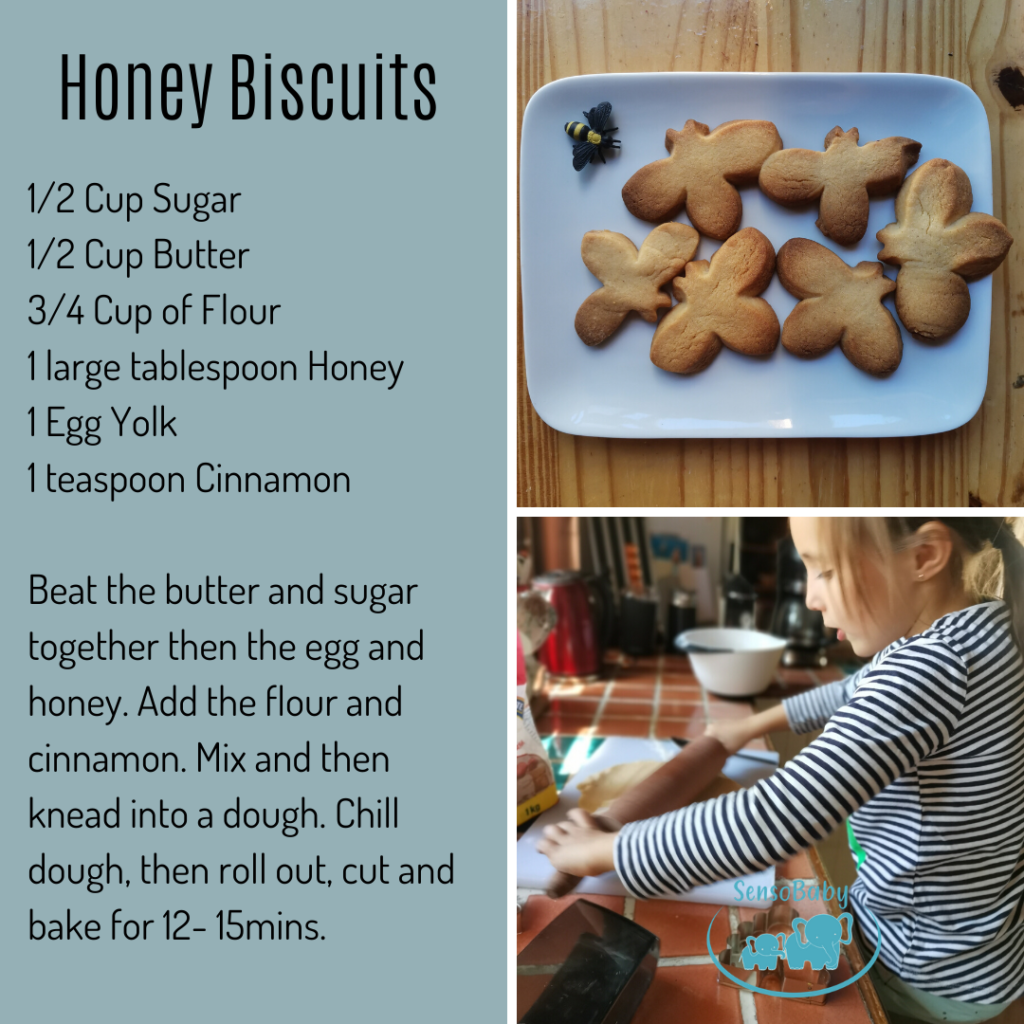 Enjoy your bee themed play!
You can find out more about World Bee Day here: https://www.un.org/en/observances/bee-day